For those who aren't familiar with the situation of
homosexuals in Iran
, there has been what can only be described as a genocide against them. According to figures released in 1999 by the Iranian homosexual rights group Homan, 4000 lesbians and gays had been executed since the 1979 Islamic revolution (a revolution no different than today's "Arab spring") . This genocide continues to this day.
Where is the outcry from the "moderate Muslim majority"? As countless
surveys, statistics
and the reaction to Peter Tatchell's
attempt at solidarity
with Muslims in the UK proved, gays may be with Muslims but the majority of Muslims are not with gays. Maybe it's about time some of the politically-driven and self-centered human-rights activists shifted their narrow focus onto those overseas who really could use their voice and influence.
From the
Guardian
: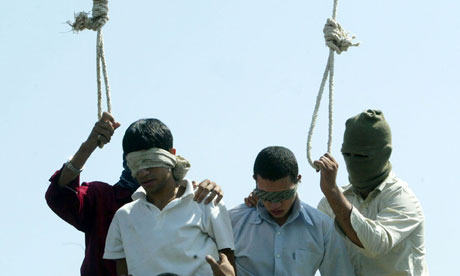 Mahmoud Asgari, 16, & Ayaz Marhoni publicly hanged in 2005 on charges related to sodomy.
An influential Iranian cleric who is entitled to issue juristic rulings according to the Sharia law, has condemned western lawmakers involved in the decriminalisation of homosexuality, saying those politicians are lower than animals.
Ayatollah Abdollah Javadi-Amoli, an Islamic scholar based in Iran's holy city of Qom, said in a speech among his followers that homosexuals are inferior to dogs and pigs, according to the news website Khabaronline.
"If a society commits a new sin, it will face a new punishment," he said while interpreting Qur'anic verses about prophet Lot whose tribe Isalmic scholars say was punished by God for sodomy. "Problems like Aids did not exist before."
Citing the Qur'an, Javadi-Amoli said politicians who pass laws in favour of homosexuals are lower than animals. "Even animals ... dogs and pigs don't engage in this disgusting act [homosexuality] but yet they [western politicians] pass laws in favour of them in their parliaments."
Homosexuality is punishable by death according to fatwas issued by almost all Iranian clerics. Until recently, Lavat (sodomy for men) was punishable by death for all individuals involved in consensual sexual intercourse.
But under new amendments approved recently in the Iranian parliament the person who played an active role will be flogged 100 times if the sex was consensual and he was not married, but the one who played a passive role will still be put to death regardless of his marriage status.
Despite the horrific punishment for homosexuals in Iran, the gay community in the country is alive underground and has won some recognition by coming out in defiance of the regime.
In September 2011, a group of gay, lesbian, bisexual and transgender Iranians launched a campaign on Facebook, highlighting the discrimination against sexual minorities in Iran where homosexuals are put to death.